2022 Litigation
Risk Survey
Results & Analyses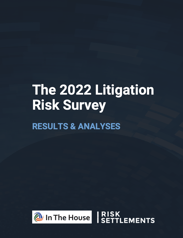 The 2022 Litigation Risk Survey was commissioned by Risk Settlements, which provides bespoke solutions to companies seeking to remove the financial and operational volatility arising out of litigation by transferring the outcome risk, and was conducted in partnership with In The House, a think tank specializing in cutting-edge issues regarding in-house legal practices.
General counsel and other in-house leaders across the globe were asked to respond to an online survey comprising of 47 questions related to their department's litigation activities and legal spend, their tolerance for litigation risk, and their knowledge of the potential solutions available to help transfer the outcome risk of litigation.
In-house counsel from across the corporate spectrum completed the survey. Respondents hailed from a wide array of companies and industry sectors and were distributed among in-house departments large, midsized and small.
Download your free copy of the report today!